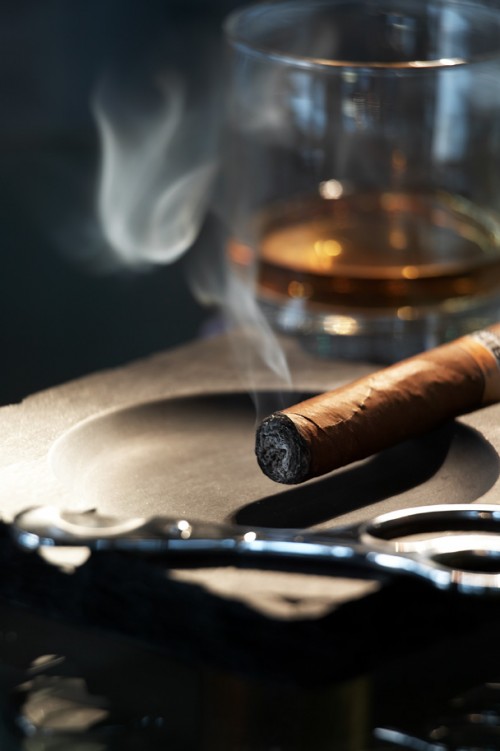 .
As the mouth fills with the vigorous and flavour-laden smoke of a fine cigar, the need rises for a liquid accompaniment. And maybe an espresso, a flavoured tea (ideally the smoky ones) or even a cold cola could be adequate accompaniment of a cigar in daytime, but when speaking about true harmony our mind always goes to alcohol. 
To be sure, it`s not only cognac that has the ability and privilege to ideally accompany a fine cigar.  All noble distillates that mature for several years in oak casks, with time obtain all those characteristics allowing them to take their rightful place next to a cigar, and bring out its qualities as well as their own.  The time that fine whiskies, choice rums, various brandies, even rare tequilas spend in the cask, enriches their original character with flavours of vanilla, chocolate, tobacco, dried fruits, and in general flavours like the ones developing in quality cigars with the fermentation of tobacco.  Moreover, spirits acquire the body and presence that would allow them to accompany a potent cigar, without being overshadowed by it. 
Spirits and cigars can make for very dynamic combinations, however, if what you seek is something to soothe your palate from the enjoyment of a potent cigar, consider a dessert wine.  Thanks to their rich flavour and complex flavours, aged Port, Oloroso or Amontillado Sherry, Madeira or even our very own - Greek - Vinsanto, can easily accompany a sumptuous Habano.  But beware, not everything goes with everything. 
Here too there are "rules" similar to those of harmony between wine and food.  Once again, likeness is the keyword.  If you are fond of the relatively mild Dominican cigars like Davidoff, enjoy them with a smooth and mild whisky or a slightly aged rum.  Don`t "bury" them under a rich, complex cognac.  Save this for a cigar that`s more rich and spicy, like one of the Cuban Edicion Limitadas.

 1+1 made in Heaven combinations

Two, absolutely delightful, harmonic combination examples of, maybe, the most popular Habanos. 

Partagas Serie D No 4 with Zacapa XO Rum 
One of the most velvety and well-rounded Habanos, with a creamy smoke laden with flavours of spices, the earth and chocolate. This "roundness" meets the Zacapa XO`s elegant sweetness in a delightful combination where no-one prevails.  This harmony extends to the stunning matching of flavours. 

Montecristo Edmundo with Hennessy XO Cognac 
A rich and spicy cigar with flavours of cocoa and pepper against an earthy background that creates a marvellous balance with the harmonic yet rich taste of the cognac offering a palette of flavours featuring dried fruits, coffee, chocolate, vanilla and tobacco, complementing the cigar`s flavours. 
User Comments
Login or register to join the conversation