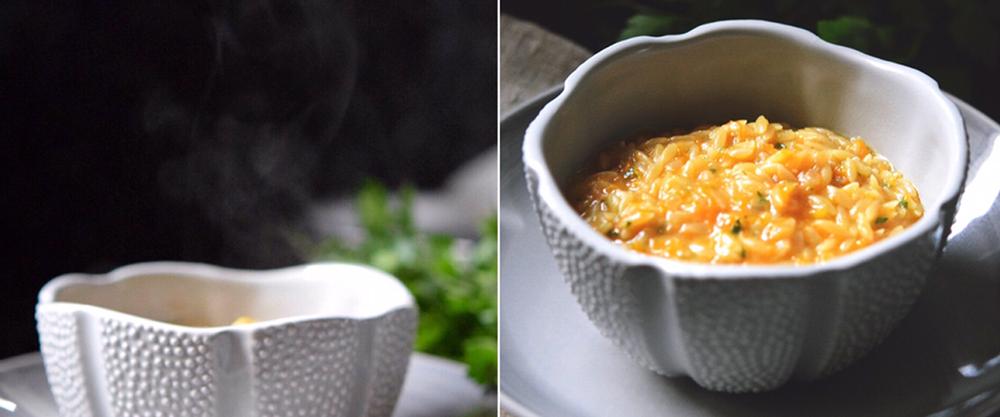 Couple of weeks ago I bought this Cinderella carriage size pumpkin in the local farmers market. I search the internet to find out the actual name of my big catch, and it is commonly called "the fairytale pumpkin" or "cheese pumpkin" - I guess due its shape? 
It was about 10 kg monster. Cutting and cleaning that glorious veggie could easily count as a cardio exercise for that day! 
I made various dishes and preserves out of its very orange and buttery delicious flesh, and it`s about a time I share the recipes with you! 
One of my favorite dishes was the creamy orzotto, orzo pasta cooked with pumpkin flesh, garlic, sweet wine and finished with Parmesan cheese. I first marinated and roasted the pumpkin and garlic, then mashed it with a fork and added to orzo on the beginning of making the dish. I used water instead of stock in cooking, delicately flavored with white miso paste, just to give tiny bit of taste. I find store bought vegetable stock(I didn`t have any home made) to strong flavored, which would overpower delicate sweetness of the pumpkin and wine.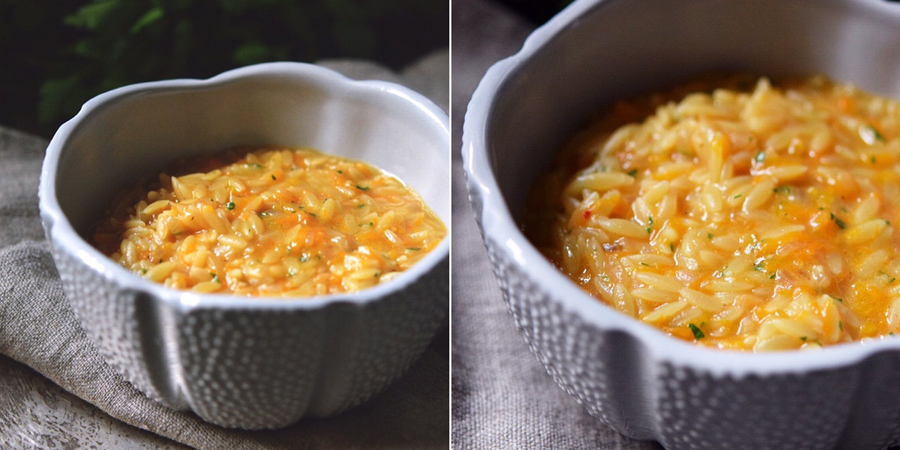 Pumpkin Orzotto with Sweet Wine 
(serves 2)
for the pumpkin
- 1 cup pumpkin flesh, cut in 2 cm cubes
- 1 tsp rapeseed or olive oil
-  1 tsp soy sauce 
- 1/2 tsp gochugaru (Korean chili pepper flakes) or any other chili flakes
- 1/2 tsp garlic powder
Mix all the ingredients, and let it marinate for minimum 30 minutes. Roast in the oven preheated to 200C for about 20 minutes.  
for the orzotto
- about 2 tsp olive oil, for cooking
- 1 small red onion, finely chopped
- 1 head garlic, roasted 
- about 1/2 cup sweet white wine (I used Vinsanto of Argyros estate in Santorini)
- roasted pumpkin, from above 
- 3/4 cup orzo pasta
- 650 ml water
- about 1 tsp white miso paste
- 1/4 cup Parmesan cheese, grated
- handful fresh parsley leafs, chopped 
- salt and pepper, to taste
Method : 
1. Mix the water and miso paste in a medium saucepan, bring to boil and then turn down to a simmer. Keep it hot.
2. Heat the olive oil in a wide frying pan, add the onion and cook until soft but not colored, about 5 minutes. 
3. Add the orzo pasta and stir very well to coat every "grain" , cook about a minute. Add 1/4 cup of the sweet wine wine. Keep stirring gently until the wine cooks into the orzo. 
4. Add the mashed pumpkin and the first 1/2 cup of hot miso water and the rest of the wine, turn down the heat to a simmer so the orzo doesn`t cook too quickly. Keep adding water, 1/2 cup each time, stirring very gently and allowing each part to be absorbed before adding the next.
5. Carry on adding water until the orzo is cooked into your liking. Check the seasoning. If you run out of miso water before your orzo is cooked simply add more plain hot water. 
6. Remove from the heat and add the parmesan cheese. Stir well, cover the pan with lid and allow to sit for about 2 minutes. Mix in the chopped parsley.
7. Server as soon as possible, while the orzotto is creamy and hot.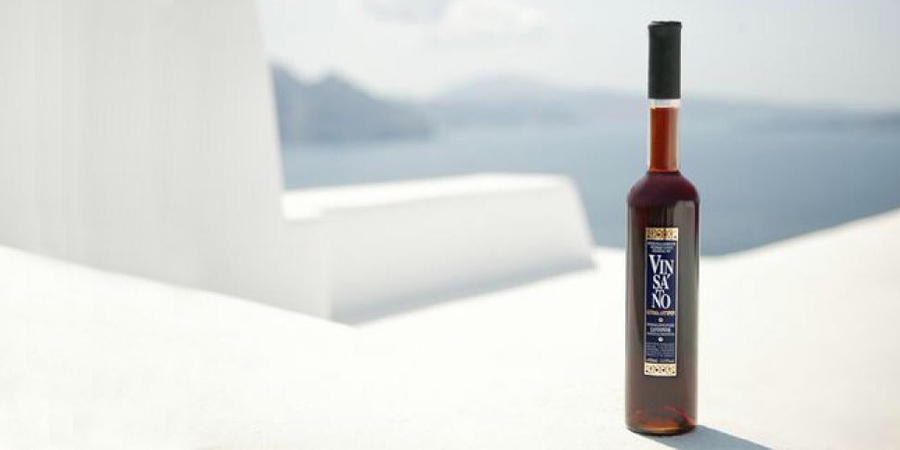 User Comments
Login or register to join the conversation