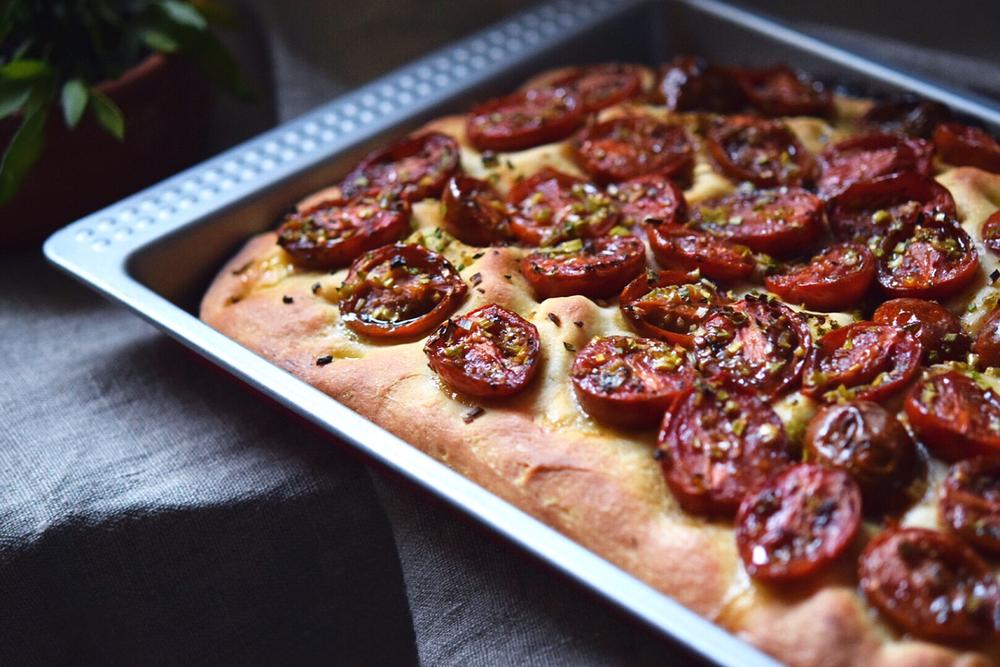 Focaccia has similar style and texture to pizza dough, but due to lager amount of added yeast it rises higher - and takes you to the 7th heaven :) 
This very easy and quick, flat Italian bread commonly made with rosemary or tomatoes can be topped with almost anything you like, I even tried cinnamon and apple topping (yum). Set your creativity free, because the options go as far as your imagination. You can also bake the focaccia "naked", just drizzle with little bit of olive oil and sprinkle with a sea salt flakes. Serve cold or warm, as a snack or a side dish. Focaccia made with delicious rich toppings would also make a great dinner, served warm and washed down with cold light beer.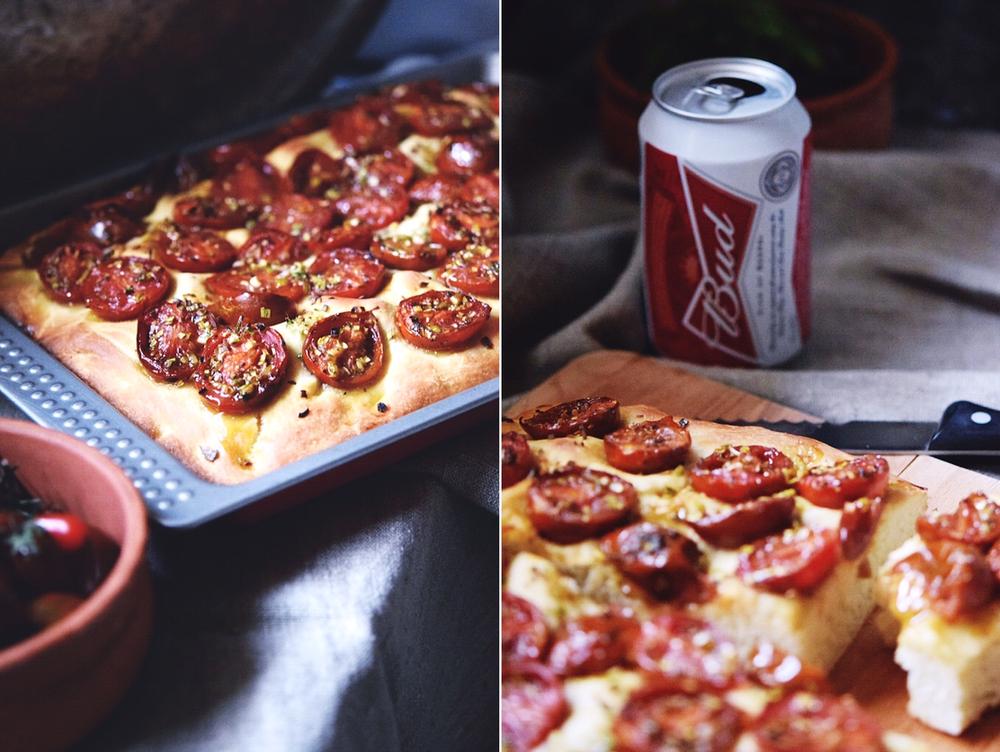 NOTES :
- you can substitute beer for lukewarm water in this recipe
- if using beer stay away from hoppy and bitter types
- you are going to need lukewarm beer for this recipe but make sure you keep 2nd one in the fridge, you may need it when the focaccia is ready ;))) 
- I don`t recommend eating hot focaccia straight from the oven. Hot tomato juice might burst in your mouth burning you badly and that will lead to not being able to enjoy the rest of the delicious focaccia. Yup, that happen to me! 
Focaccia Dough
(makes one large or two smaller breads)
500 g strong bread flour 

1/2 tbsp salt

300 ml beer 

1/2 tbsp caster sugar

1 sachet (7g) dried yeast

olive oil
tomato topping:
2 cups ripe cherry tomatoes, halved

1/4 cup green garlic, finely chopped

1/2 cup fresh basil leaves, roughly chopped 

salt and freshly ground black pepper to taste

balsamic vinegar

olive oil 
Method : 
 Warm the beer to lukewarm temperature, add the sugar and yeast, mix with a fork and set aside for few minutes until it starts to foam. 

 Place the flour and salt in a large bowl or bowl of a stand mixer, and make a well in the middle. Pour the beer mixture into the well, mixing with a fork as you go. 

 When the ingredients come together, kneed vigorously with your hands or fit the hook attachment to you mixer and kneed the dough on medium hight speed until you have soft and springy dough. That will take about 5 minutes.

 Transfer the dough to a lightly oiled large bowl, cover with a linen towel and leave to prove in a warm place until doubled in size, about 30 minutes. 

 While the dough is rising prepare the topping. Place the tomatoes, basil and the green garlic in a medium size bowl. Season with salt and pepper, drizzle with olive oil, and add a splash of vinegar. 

 Preheat the over to 220C. 

 Tip the risen dough out of the bowl and divide into two portions. Push each portion onto a deep baking dish such a jelly roll pan. Using your fingers push the dough into the corners and press down making lots of rough dips and wells. Leave to prove for 20 minutes. 

 Divide the tomato topping between two pans, generously drizzle with extra olive oil and bake in the preheated oven for 20 minutes. Let it cool slightly before serving.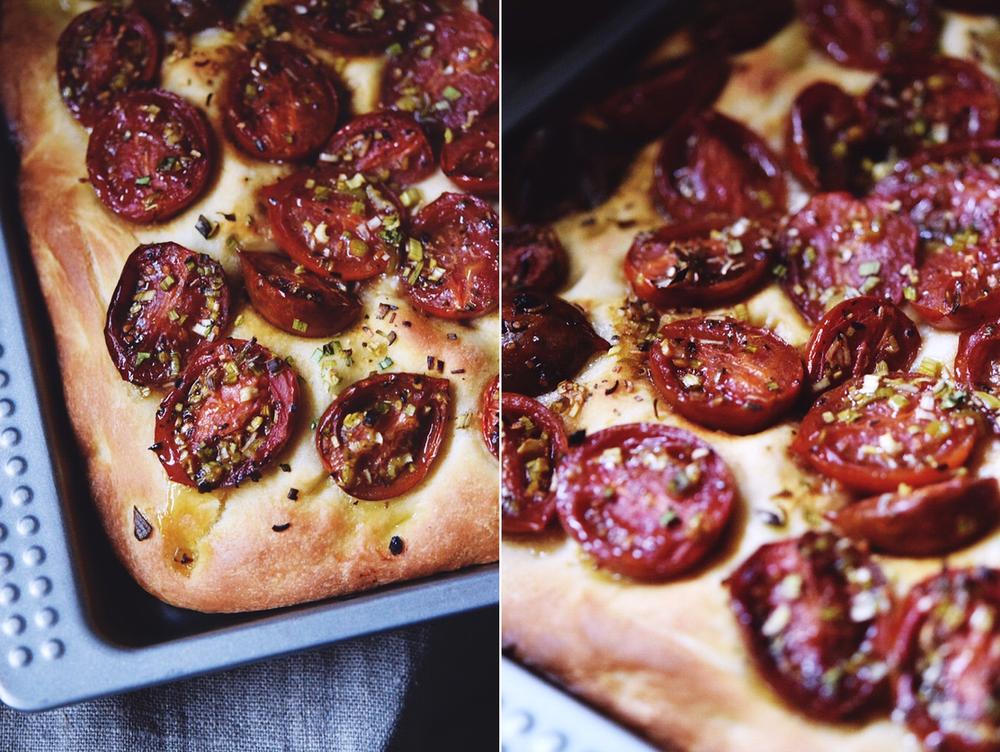 User Comments
Login or register to join the conversation