Do you know I have never made crepes before? How is that even possible? Of course I`ve planning to make them, I even bought this super pancake pan (over year ago!) but I never "test-derived it". For some reason I thought it will be difficult, I had the same feeling about making cheesecakes, and look at me now! I can make cheesecakes with my eyes closed!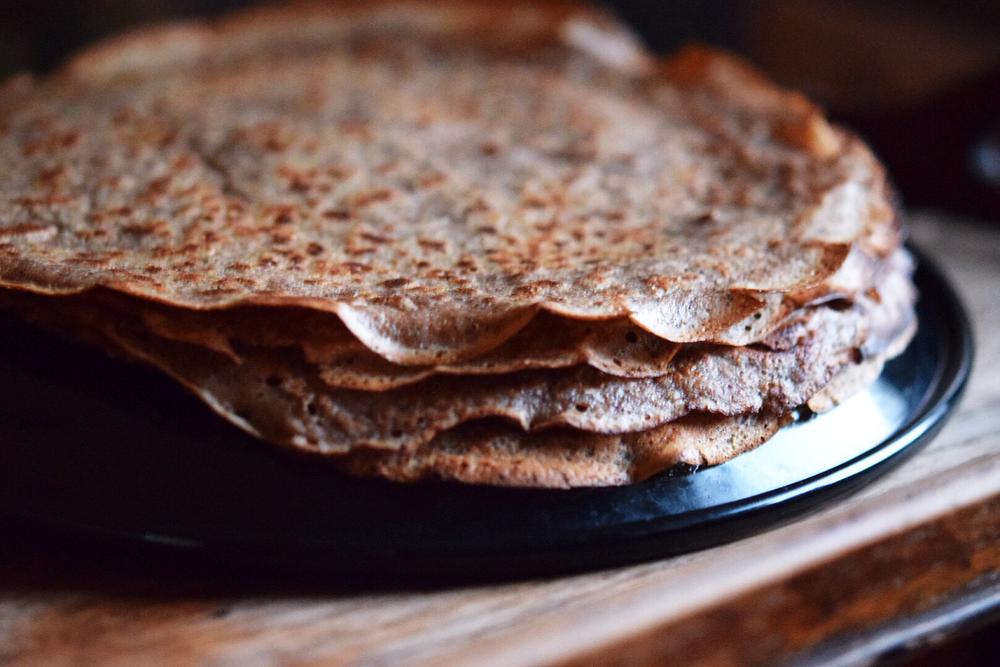 Few days ago - Saturday to be exact, after "funky flour" shopping I felt incredible urge to make crepes. I had to try my new flours as soon as possible. So after the lunch I began my "crepesness" (crepes craziness - I`m trying to be funny here), I started flipping pancakes with my bare hands, one after another. I had so much fun that the next day I made more, hah.  There is so many possible options and flour combination.
Three Flour Crepes 
(makes 10)
1/2 cup whole wheat flour

1/4 cup coconut flour

1/4 cup carob flour

pinch of salt

1 tbsp coconut sugar

2 eggs

1 cup coconut milk

1 cup sparkling water

1 tbsp coconut oil, melted 

1/2 tsp vanilla paste
Method :
 In a medium size bowl or a bowl of your food processor combine the three flours, salt and sugar. 

 In a separate bowl or a jug combine eggs, coconut milk, sparkling water, coconut oil and vanilla paste. Whisk to combine. 

 Pour liquid ingredients over the flour mix and blend or whisk until smooth. Let the butter sit at room temperature for about 15 minutes. 

 Heat nonstick skillet over medium - high heat, pour about 1/2 cup batter and swirl to completely cover the bottom of the pan. Cook until underside of crepe is golden, about 2-3 minutes. Loosen the edge of crepe with a spatula and then using your fingers, quickly flip. Be careful not to burn you fingers. Cook for about 1 minute. Slide ready crepe of the pan and continue cooking until all batter is gone. 

 Dress with fresh fruits and drizzle with a syrup of your choice. Enjoy!
User Comments
Login or register to join the conversation