I`ve been practicing "flour mixology" lately - I don`t think such a term exist, but you get what I`m trying to say, right? 
There is so many flour options that it will take me long time until I actually try them all. My top three flour so far are :  flax seed flour, coconut flour, and the carob flour which already used in making crepes in my last post.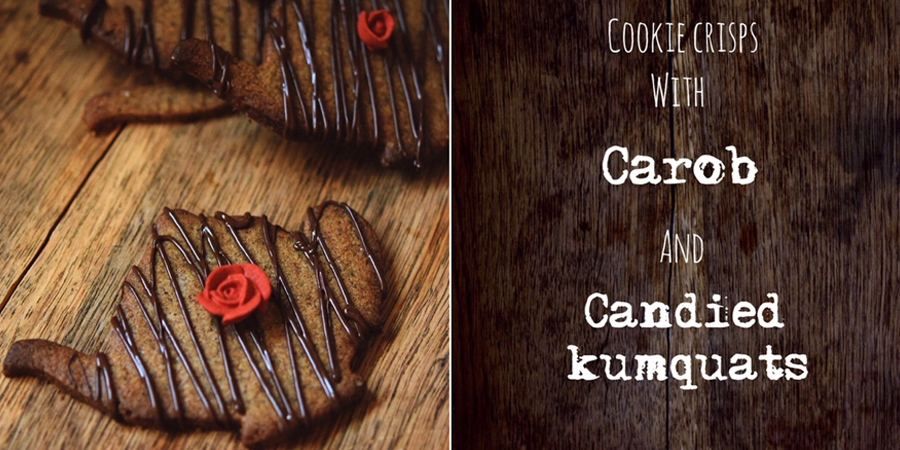 Carob has mildly sweet and nutty flavor. It comes in powder, or syrup form (I`ve heard there are also carob chips aka chocolate chips but I haven`t seen them anywhere so far) and it can be substitute for chocolate or cocoa powder in baking. 
This time I made thin and crunchy cookie crisps. I`ve reduced sugar in the recipe and added minced candied kumquats instead for some extra flavor. You can sprinkle the cookies with some extra brown sugar before baking or glaze them with dark chocolate after they are baked.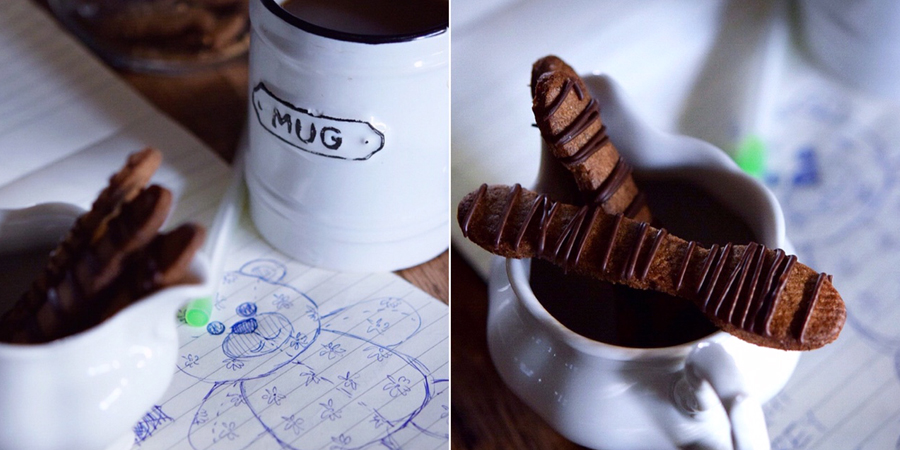 Cookies Crisps with Carob and Candied Kumquats 
250 g white wheat flour

150 g whole wheat flour

 100 g carob flour

250 g butter, room temperature

1 egg

180 g brown sugar

100 g candied kumquats, finely chopped  

1 tsp vanilla extract 

pinch of salt

50 g dark chocolate, melted
Method : 
 Preheat the oven to 190C and line two baking sheets with a parchment paper.

 In a large bowl sift together flours and the salt.

 Place the butter and sugar in a bowl of a stand mixer fitted with paddle attachment. Beat until pale and creamy. Add an egg, beat for few minutes more until well combined. Beat in kumquats and vanilla extract.

  Add the flour mix in two or three batches, and beat on low speed until dough comes together. Wrap in foil and refrigerate at least for 30 minutes.

 Roll the chilled dough on a lightly floured surface until 2-3 mm thick (thinner cookies will be crunchier and tastier), and cut desired shapes. Place the cookies on the prepared trays, and bake for about 10-12 minutes. 

 Allow the cookies to cool slightly on the trays before transferring them to wire racks to cool completely. Drizzle with melted chocolate. 

 Store in the airtight container or a cookie jar.
User Comments
Login or register to join the conversation