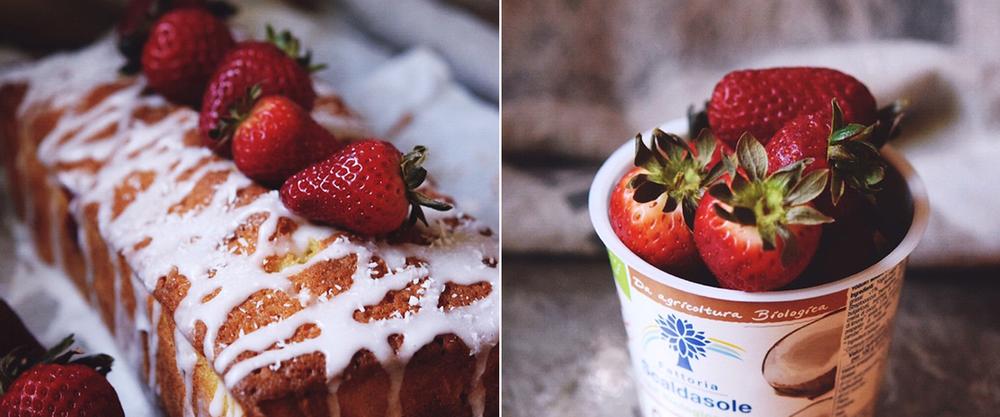 I`ve been digging in my grandmas cookbooks and hand notes to find some cool old cake recipes to try these days. What always brings my attention is the butter stains on the pages. More stains better the recipe!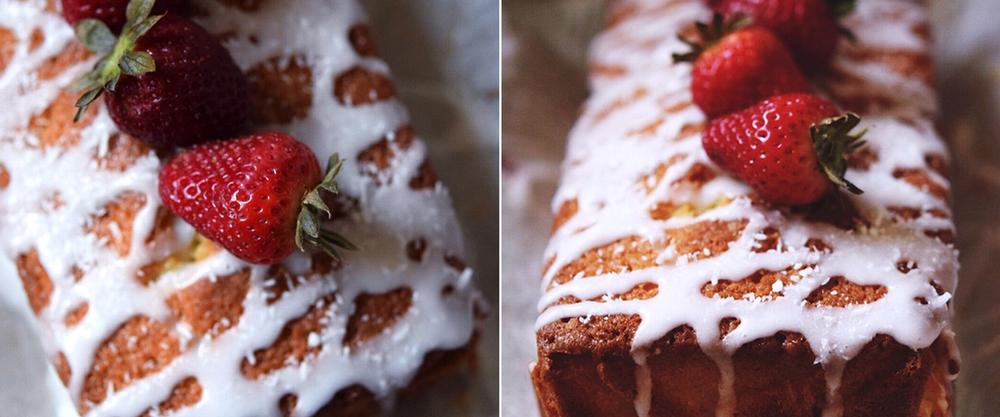 I have found uber simple cake recipe, coffee style cake which can be baked as a bundt or loaf cake. Perfect for morning coffee or as a afternoon sweet-snack. I have found it under the name  "the oil and vinegar cake" but let`s call it "Vintage Loaf Cake by Franny"  ;) Originally it was a vanilla cake but I`ve changed into a coconut cake and I served it with fresh strawberries.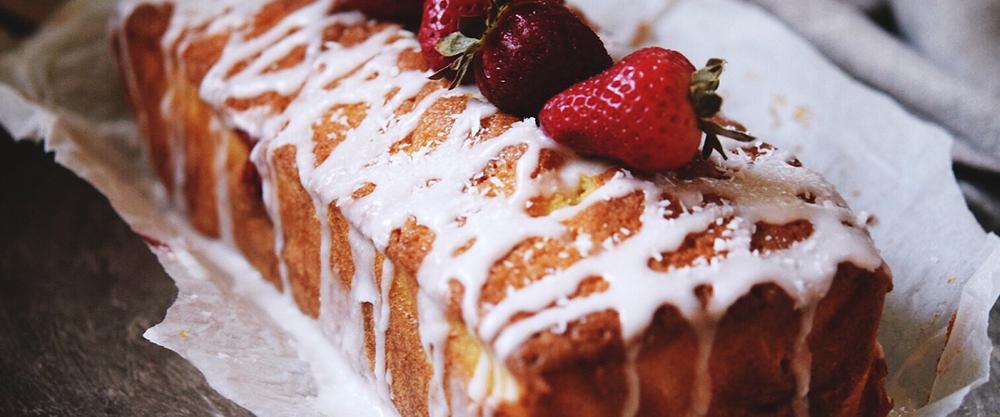 VINTAGE COCONUT LOAF CAKE
125 g butter, room temperature

1 1/2 cup sugar

4 eggs

1 1/2 cup cake flour

1/4 fine coconut flakes, plus extra to decorate 

4 tbsp potato starch 

4 tsp baking powder 

1/4 cup coconut yogurt

1 tsp vanilla paste

2 tbsp coconut oil, melted

2 tbsp white wine vinegar

fresh strawberries , to serve and decorate 
Glaze 
1 cup confectioners sugar

3 to 4 tbsp coconut milk or water

drop of vanilla extract (optional)
Method : 
1. Preheat the oven to 180C. Butter and line with parchment paper 30x10cm loaf pan or butter and dust with flour 2 bundt cake pans.

2. In a medium size bowl mix together the flour, starch, coconut flakes and baking powder. Set aside.

3. In a bowl of a stand mixer beat the butter and sugar until light and fluffy. Add the eggs, one at the time, beating well after each addition. 

4. Add half of the flour, and beat on medium hight speed for 2 minutes. Scrap down the sides of the bowl, and the rest of the flour mix, coconut yogurt, vanilla, oil and the vinegar, and beat on medium hight speed until well batter is well incorporated. 

5. Bake in the prepared pan for about 1 hour or until a skewer inserted into the center comes out clean. Cool in the pan for about 10 minutes and then turn out onto a cooling wrack to cool completely.

6. Make the glaze. Mix all the ingredients to make a smooth and pourable glaze. Drizzle over the cool cake, sprinkle with coconut flakes. Serve with fresh strawberries.
Enjoy! 
User Comments
Login or register to join the conversation