When Niki Fotiou, my friend and marketing manager for the Divani Collection Hotels, sends you an invite, you know it's going to be great.  My other friend Fay,  was also invited and she was much more willing to try everything on offer if I'm being totally honest.  I must admit though, that everything I did try was just το perfection.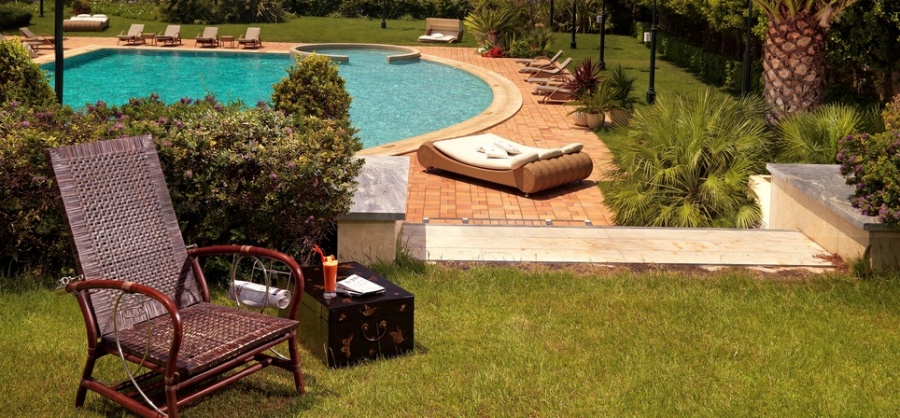 Even though the DivaniApollon Palace &Thalasso is only a stone's throw from Athens, from the minute you walk through the door you're already in a holiday mood.  You can just do whatever you want to and in my case that involves laying on the very comfortable sun loungers by the seawater pool, covered in St Barth Roucou Oil (which is on sale at Divani boutiques and spas) and eating fresh fruit served in cute plastic boxes.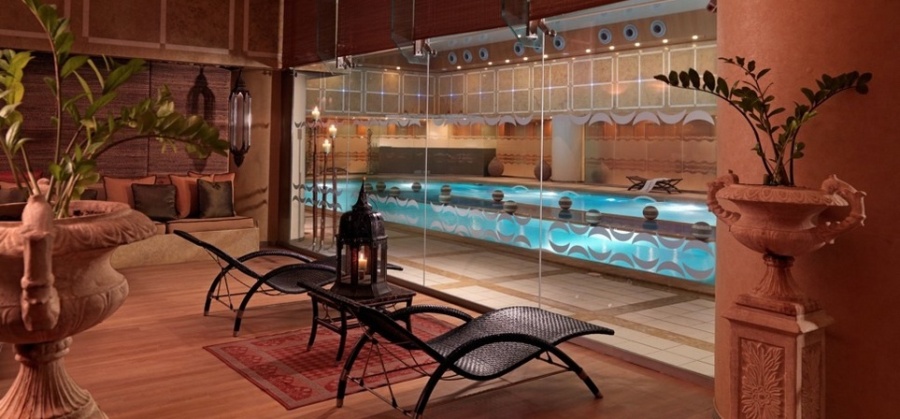 During the winter months you can just use the huge indoor seawater pool (270m) with the 20 different jet settings, which make you feel like you've just had the most intense massage.  Unfortunately for me and my blonde's brain, I couldn't figure out where my swimming costumes were hidden and I didn't want to scare the other guests away by appearing in my underwear.  I just enjoyed my perfect sea view bed, wondering about the grounds and gorgeous facial treatments instead.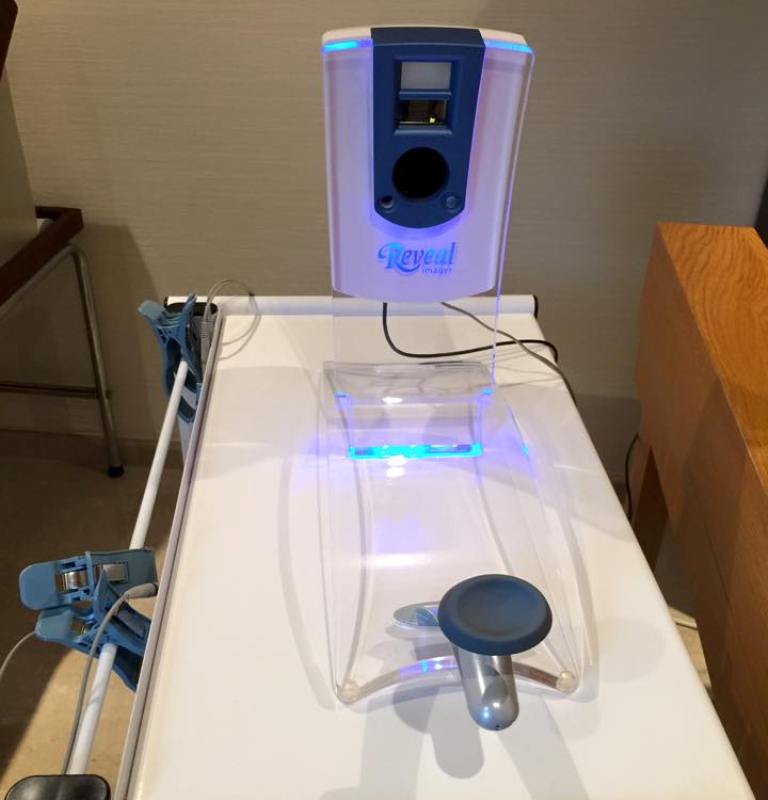 When I say facial treatments, I don't just mean any old thing.  Divani Apollon Palace &Thalasso uses one of my favourites, The One Face creams, and their Symmetria range.  They also have an amazing contraption, the Reveal Imager, which gives you an accurate diagnosis of the state of your skin and what treatments are the most suitable.The process is simple: you place your chin on the rest, close your eyes and a photograph is taken using a very bright flash.  That image is then projected on a computer and a specialised doctor, Mrs MatinaTzemou in my case, starts explaining what's happening under the skin's surface.  You can immediately start to see all your imperfections as nothing can hide from that light.  In my case, as you can see for yourselves in the photos, the problem wasn't the sun damage, as I was expecting after years of sitting in the sun without a parasol or even sun block until very recently.  I was suffering from vascular lesions.  As the doctor explained, people's skin colour types are numbered from 1 to 5, with 5 being for the darkest skin tones.  I'm between 2 and 1, which is unusual for a Mediterranean and means that I may have brighter skin but it's also likely to be more sensitive.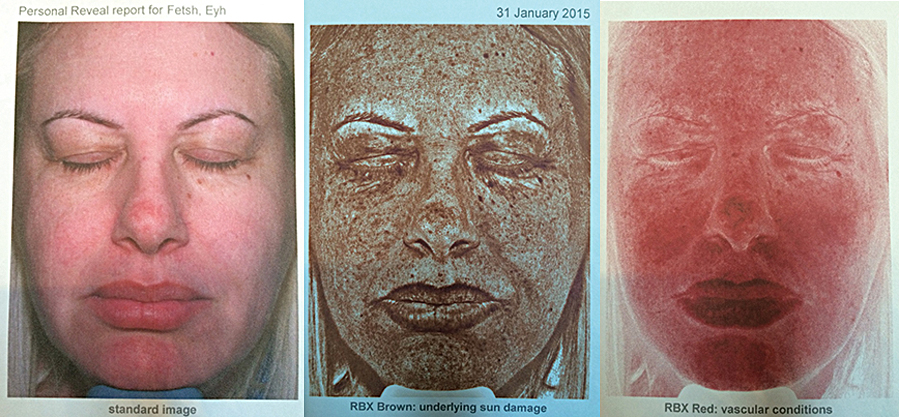 As my skin is also very dehydrated due to my finally getting round to buying face creams but frequently forgetting to use them night and day, the first treatment was the Symmetria Hydrafacial.  It involved cleansing, exfoliation, sebum extraction and hydration but not in the old school way of steam and squeezing until you're red as a lobster and swollen as a balloon.  What is used instead is an amazing machine, which leaves your skin feeling softer and brighter than ever, with a slight redness no more extreme than rosy cheeks after an exciting day.  When we went out that night, everyone was asking what I had done to look so glowing and I couldn't help but gloat a little.
The next day it was time for the Thalgo Silicium treatement for the over 40s.  I'd previously tried Thalgo products and liked them.  They're based on sea water and sea weed and this particular treatment is great not just for hydration but also for the tightening of the skin, extra plumpness and filling in tiny expression wrinkles.  Basically exactly what I need at this point in my life when everything is in freefall!  The treatment lasts for 75 minutes and for 20 of them you're wearing a facial cast and lying in dark room with music softly playing in the background.  If it weren't for my fear of falling off the high bed, I would have been snoring in no time.  As I'm new to this whole treatment world, I had no idea about masks like this.  They wet your face, you close your eyes and then they cover it with thin gauze, which is layered with various crèmes that harden so the whole thing is easily removed as a mask at the end of the treatment.  Perfect, isn't it?  My face was so glowing, I felt like I'd swallowed a light bulb and in fact I still do as I sit here and write this piece.  It is a truly spectacular result and if I could, I would happily repeat the process every 4 to 6 six weeks.  Very much worth the time and money.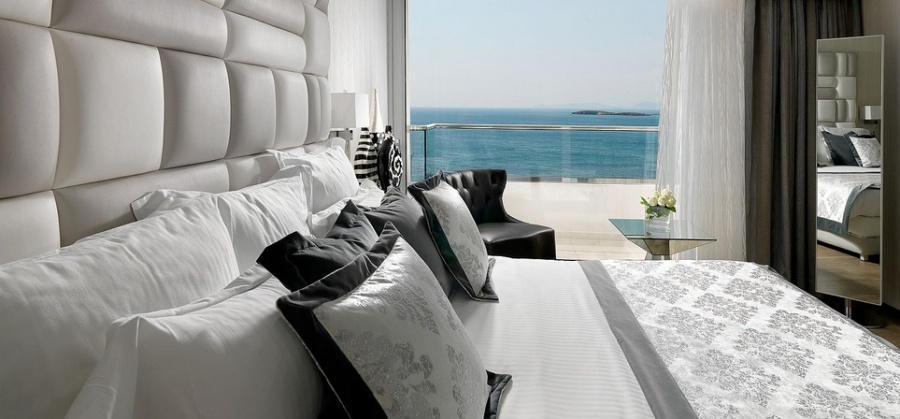 There are many other things to enjoy at the Apollon Palace Spa &Thalasso, like various massages (with bamboo, hot stone and sea shells etc), body treatments, working out in the very well-equipped gym, thalassotherapy, manis, pedis, waxing and hair styling.  You can also consult the special dietician in order to follow a great detox programme for as long as your stay lasts with meals made for you and breakfast served in your room on a beautifully decorated tray.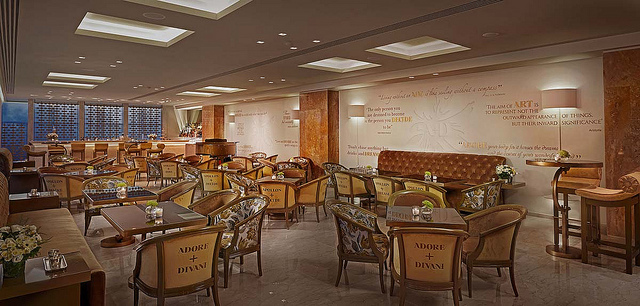 I chose another eating plan which involved fabulous finger food and cocktails in the A+D bar, where we stayed until 2.30am on Friday night, having danced, sung and generously applauded Fay's husband Nikolas on the piano.  I have video footage from that night which will one day have collector's value.  It would be rude not to mention the duo of Vivi Kitsou and Ioannis Andrakis who perform on Friday and Saturday night and are really great.  So much so that we are going back, maybe even making it a favourite hangout, and we'll definitely use them at one of our upcoming events.  After having so much fun, it is obvious how lacking Athens is in venues where you can enjoy good live music and have something decent to eat and drink.  Make a point of going whether for a night out at A+D, or for a weekend at the hotel, especially with Valentine's day around the corner.  The hotel has put together special menus and even more special cocktails inspired by kisses.  I spent that amazing night drinking 'Kiss on the neck' and trust me, it was a night to remember. 
User Comments
Login or register to join the conversation