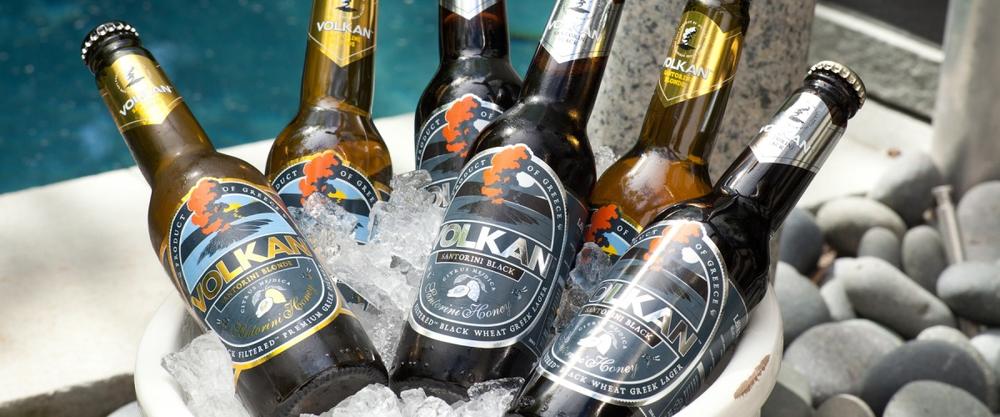 I immediately fell in love with Volkan Blonde for its light palate and confident character. The more I taste it, the more I appreciate it. The beer's aromatic notes from American Cascade hops, one of its prominent features, offers an enjoyable freshness of flowers, pine needles and citron. The delicate bitterness, slight dryness and spicy flavour, though with honey and citrus notes, endear me to its particular style. It is a special Pils and how could it not be? Its ingredients include fragrant Santorini honey and Naxos' ancient Citrus medica, both of which significantly enhanceits taste. All the brew water is filtered through basalt taken from Santorini's volcano, endowing the beer with a very special personality, since this filter was developed exclusively for Volkan and constitutes a global innovation.
The honey, citron and water filter made from volcanic rock all represent novel developments in the world of brewing, for which Volkan was deservedly named "New Product Innovation of the Year" at the International Beer Awards 2013.
The International Beer Awards, held in association with Canadean Beer Strategy Conference, are presented to the best beer in each category. The Greek beer had to compete with major "players" in the brewing industry and managed to stand out on account of its local character. It not only impressed the judges but is also promoting products and flavours from Santorini and Naxos, along with Greek farming traditions that span the millennia.
Volkan Santorini is also available in two other types: Volkan Black, a black lager, and Volkan White, a Belgian-style wheat beer.
The beers are produced at the ZEOS microbrewery in Argos on behalf of FIRST LOMAX.
They are distributed by First Lomax (tel.: 22860 30268) www.volkanbeer.com
User Comments
Login or register to join the conversation