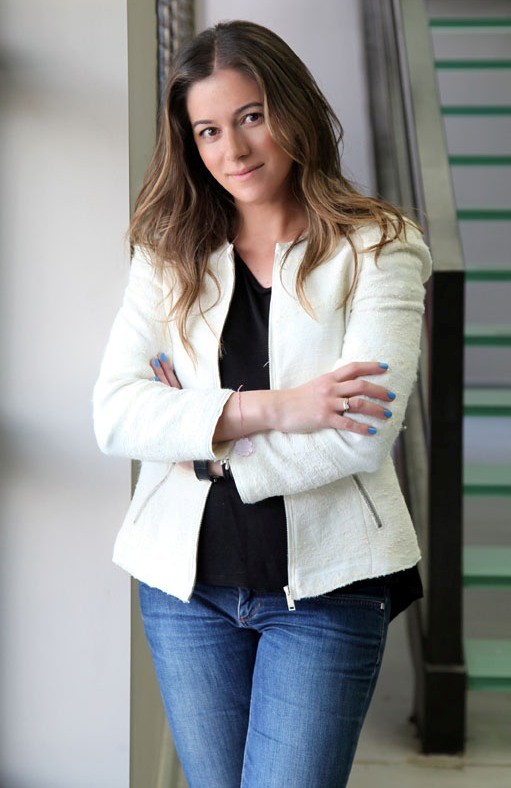 And Kayak was the first to introduce us to this gourmet approach in Greece with a startling palette that is now also garnering acclaim abroad. With summer knocking at the door, Salome Stavridou, Marketing Director of Kayak, assures us that visions have no expiry date. And the way forward is true passion and greater authenticity. Something that is relevant to all of us.
- The name doesn't immediately conjure up the image of a Greek product. How do you deal with this in the Greek market?
The truth is that many consumers still don't know we are a Greek company. This concerns us but also encourages us when we see the satisfaction on their faces as we explain the company's Greek identity.
- How can a Greek company, which one would describe as a boutique business, meet the challenges of the new era?
Despite the difficult times, Kayak has never cut costs when it comes to the way it makes its products and the ingredients it uses. Even so, we have tried to adjust the prices of our products and create flavours and proposals which are inspired by Greek nature and reality.
- Many Greek companies, especially in the food and beverage industry, are export-oriented. What are the main difficulties you face in this respect?
The fact is we have had a very good response abroad. From the exhibitions in which we have participated and the tastings we have organized, the reviews have been extremely favourable. The main difficulties have to do with finding the right partners in each country, who are in a position to both understand and promote the product in the appropriate way.
- What have you learned from working with leading lights in the field, such as Pierre Herme?
The feeling that everything is possible. The satisfaction of gaining recognition from a top chef, since it is the first time he has entrusted his name to a production company.
- What is the relationship between Greeks and ice cream, given the seasonality of the product?
To most Greeks, ice cream is still a seasonal product. Perhaps not as much as in the past, but we are still influenced by seasonal climate changes.
- What do the distinctions received by Kayak mean to you?
The truth is that we are now focusing our efforts on expanding the ice cream line but also KAYO frozen yogurt abroad too. We really love what we are doing and give our utmost for the best result. So when this effort is acknowledged and receives awards abroad, it provides us with further motivation and assures us we are on the right path.
- How much of a role does research and development play in your company?
As far as we are concerned, R&D is the alpha and omega. It is the way we express ourselves and create. Our pleasure and our basis for innovation. It is ongoing and inexhaustible.
- Do you believe the vision for your company has been realized or are there some things that still need to be done?
The vision has not been fulfilled. And from my perspective we still have a long way to go. I believe we have created a very strong, unique product, since we were the first Greek company to see ice cream in a different light and give consumers the opportunity to try different flavours, giving it a new dimension. This niche exists abroad. Recently, at an exhibition in which we participated in France, one visitor introduced himself as a "nostalgic client from Mykonos". This was very encouraging for us in terms of the company's overall image and product. 
- Will Greece overcome the crisis and if yes, what forces must be mustered to make this possible?
The economy must run its course. Greece will definitely emerge from the crisis. The question is when.
- We frequently hear about the need to rediscover our production roots, to restructure our production base, but so far we have seen no concrete proposals. Do you have something to propose?
Having a production company in Greece is a feat in itself. Apart from the bureaucratic difficulties we face, the lack of basis infrastructures, the constantly changing tax regime, ingredients that are now so expensive and the prepayment of imported items, to mention but a few problems, there must be stabilization so that we can move forward in the right direction. All the big manufacturers have withdrawn from Greece. What I would propose is stability and seriousness with respect to Greek production.
- How can "Made in Greece" become a brand name?
"Made in Greece" could become a brand name for products for which our country is renowned. KAYO magic frozen yogurt is one such product.
- How deeply has the crisis affected you and how are you responding?
The crisis has hit all companies operating in Greece. Fortunately, we have not been that badly hit. Our response has been very energetic, because we believe in our product and have the flexibility to adapt according to difficulties or opportunities, depending on how one sees them.
- Does the emergence and increasingly strong trend in frozen yogurt pose a threat to ice cream?
Frozen yogurt has taken a share of the market from ice cream, but to us it is a related product. It belongs to the same category and forms part of our product range. KAYO is Kayak's "child" and has been created with the same values. It is made with fresh Greek strained yogurt, fruit pulp and chocolate.
- In your opinion, which flavour best encapsulates the Greek summer?
The sorbet!
- What makes for a successful person?
Success, in my view, is personal fulfilment. It means someone who has set their targets on all levels and has a carefully considered understanding of what is important in life. A person who sees things through a certain prism and is able to assess and categorize them in accordance with their true value.
- Who would you say has had a decisive influence in your life?
My children. They have given a different dimension to my attitudes toward things and circumstances. They have made me a better person, more patient. With their innocence and simplicity they have taught me the real values in life.
- Does the fact you are a family business affect the way you make decisions? Are there times when this is an obstacle?
Yes and no. On many occasions it has given us the ability to attempt things we would not have done if we were answerable to the manager of a multinational, but at the same time it has perhaps made us more restrained in matters relating to the company's expansion.
- Do you have any free time and if so, how do you spend it?
Free time is far too precious to waste. I spend mine with my family and loved ones.
- Tell me a film and a book that recently impressed you.
Book: Bittersweet Lemon by Sophia Voikou. 
Film: The Untouchables.
- Do you have a saying with which you identify?
"He who does not understand your silence will probably not understand your words."
- Which values should we embrace as we move forward?
Sincerity and authenticity. Belief and passion.
User Comments
Login or register to join the conversation