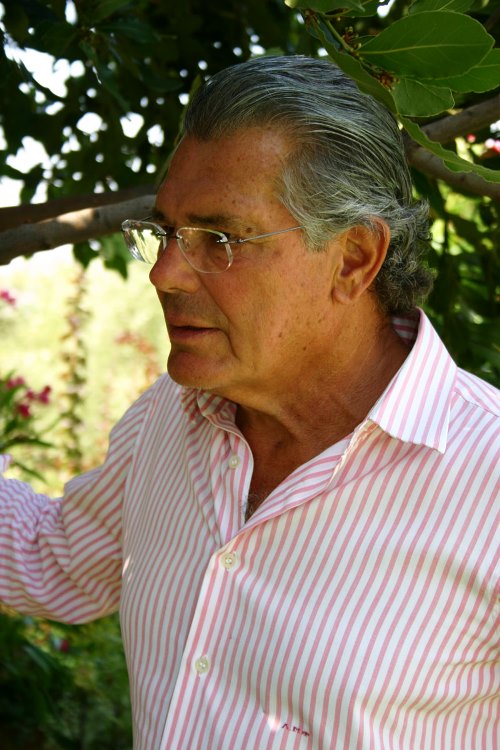 From a distinguished diplomatic family, Lysander Migliaressis served as Greece's ambassador to Finland, Chile and Austria. Today, he exercises a different type of diplomacy through Filalexia. It all began with a model villa, offering a cultural and gastronomic experience, in the area of Leivatho on Cephalonia, his birthplace. But it didn't stop there, for through his company of the same name he has expanded into the provision of quality tourism services.
- How was Filalexia born?
By chance! I found myself at the Ministry of Foreign Affairs without specific duties, so I had plenty of free time. I went to Cephalonia and visited the family estate. Seeing the extensive olive grove and the exceptional olive mill, the second largest on the island, I began thinking I would like to revitalise them, as they had fallen into serious decline. In 2000, my wife and I founded the company Filalexia S.A., which derives from the names of our two children, Filippos and Alexia. The name also alludes to the Greek word for hospitality, filoxenia.Our objective was to restore as much as possible and breathe new life into the olive grove, which is among the two or three largest on the island. It covers approximately 300,000 m2, a huge area for an island. Of this, my immediate family, i.e. my siblings and myself, owned about 30,000 m2, which I acquired. I then took steps to participate in special EU programmes aimed at promoting agricultural cultural heritage. The result was the restoration of the olive mill – as a museum – and two guest houses that have since been converted into a single villa.
- What is particular about your endeavour?
Originally we intended to build two more villas but we subsequently realised that Cephalonia was not yet attracting high-end tourism. The truth is that we managed to create something quite tasteful, with exceptional staff. At the same time, we turned the villa into a space where one can become acquainted with the gastronomy of the Ionian Islands and of Cephalonia in particular, whilst we are also showcasing local wines, especially the excellent Robola and a red wine from the Sklavou Estate.
- What prompted you to expand?
In the context of efforts to improve Cephalonia's tourism product, the proverb "one swallow does not a summer make" is certainly apt, as to some extent it is futile trying to persuade others. Nevertheless, some have indeed adopted our approach.
Realising that Cephalonia cannot attract higher-spending visitors, we expanded to other islands, though we are not particularly expensive compared to prices on Myconos or Paros. But our identity is associated with Cephalonia, because it was there we created something entirely our own and we take great pride in promoting our place of origin.
- What challenges did you – or continue – to face?
The difficulty in Greece is maintaining something as you first created it. One has only to look around: the Greek state itself has created a great deal that it cannot preserve. For example the Olympic Games facilities, many of which have fallen into disuse. We now constantly take care of the estate. When something that requires effort galvanizes you, you overcome all obstacles because you are energized by your enthusiasm. The regeneration of the estate is something I enjoy doing. In fact we are not easy to find and sometimes passers-by, impressed by what they see, stop and ask who it belongs to. They often ask me personally, taking me for one of the workers!
The truth is that the workers and I are the same thing; we do exactly the same jobs, with much greater effort, of course, on the part of those who assist me. And I should just mention that the majority are Albanians. You won't find many Greeks, though I do have a head gardener. I must stress that I would have achieved very little without the assistance of these people, who are irreplaceable; there simply are no Greeks to replace them. If one chooses a good Albanian, he should be deeply grateful. And this is something I feel the need to say.
Are there similarities between your career as a diplomat and your activities in the hospitality sector?
First of all, our clientele are mostly foreigners, for the simple reason that Greeks are yet to embrace the villa culture. Greeks do not rent villas because they are not accustomed to doing so and it's not something they generally consider. And even if they do, they will have a hard time agreeing to the terms, not least because it must be paid for in advance, which is inconceivable for most Greeks, that is, to pay for something before trying it. Another common element is hospitality: part of a diplomat's life is spent hosting foreigners. You must know them and take care of them accordingly. There is also the matter of communication, with the use of languages such as English, but on many occasions German and Italian too. 
- Do you miss the diplomatic corps?
Strangely enough and despite the fact that I was born into a diplomatic, so to speak, environment, I find it easy to start something new, perhaps because it's in my nature. Besides, before leaving the Foreign Ministry I had already set the wheels in motion by founding the company eight years previously.
- What do diplomats do when their career comes to an end?
Unfortunately, a large percentage do nothing. A small percentage cling to the ministry and in related services as advisers. It is unusual in Greece for diplomats to be absorbed by the private sector. Perhaps because it is not large enough to absorb them, or perhaps because most Greek diplomats are not equipped to work in the private sector. I may sound a little blunt but I feel entitled to express myself in this way because I have found myself on the other side of the fence, in the private sector. Immediately after returning to Greece, I assumed the company's management and the decisions are mine. So, the company must stand on its feet and respond to the challenges if it is to survive. I am now a small businessman in the private sector. Generally speaking it is a perpetual effort, because there's one thing we have not yet understood in Greece: we take for granted all the things we have to offer – sun, sea, beautiful landscapes. In fact as far as the landscapes are concerned, we frequently appear set on destroying them. There are only very few instances, particularly in recent decades, where neo-Greeks have achieved something worthy of mention. Show me a place that has been properly developed and promoted in the past 40 years! Slightly older generations of course created some wonderful 'enclaves' such as Nafplio, Plaka or Corfu.
- So what is the legacy left by the Greeks of recent years?
A legacy without identity, that's what they leave, because they found themselves in a struggle for survival and then indulged themselves in consumption. That struggle, in conjunction with rampant consumerism,dampened their aspirations. 
- How do you see Cephalonia today?
It too follows the same model, gradually losing its identity. Nothing is being done and that is the fault of local society, which fails to take any initiatives and move as one in a single direction. As is the case in general, locally too there is no hierarchy, no elite. You know, when there is no leader class, not necessarily intertwined with wealth, not only Cephalonia but other regions too flounder. So people expect too much from the central government in Athens, while they themselves do very little or nothing at all. Efforts are always on an individual level and unsystematic. Having said that, a number of hotels have been created, one or two areas have been developed. Fiskardo, for instance, which has been developed but not in the way one might want, whilst Skala has been developed quite well in my opinion. But these are isolated cases. In other respects, things even appear to be regressing. For example you can't eat well on Cephalonia; the standard ranges from medium to abominable.
- So does that mean there is an opportunity for someone to enhance the island's culinary offering?
Cephalonians appear to be preventing even their compatriots in Athens from coming and working on the island. Some places have developed thanks to the influx of people from outside the region. This is not so in the case of Cephalonia. Everything moves from within: those who are settled on the island pull all the strings. There are not even any people who originated on the island moving back. Seeing this, I realised that I should not expand on Cephalonia.
So we expanded to the Cyclades, the Ionian Sea and the Argo-Saronic Gulf.With regard to this activity of the company we have no need to lead, we simply follow. We identify areas of interest and try to grow there. We select homes and rent them to foreigners. But it's very difficult work. This is our third year and I can't exactly say we have taken off, but our efforts continue unabated.
- Of the important people you have met, who made the greatest impression on you?
As a diplomat I came into contact with many eminent figures. But you don't have the opportunity to socialise with them and form a more complete impression. You just see them a little more than regular folk. What I can say, as a diplomat, is that most Greeks I met abroad were a disappointment, beginning with the politicians. The importance of many Greeks who are prominent at home is greatly diminished abroad. It is striking just how ordinary most of the Greeks are who go about here creating the impression that they are important. Abroad, however, they become invisible and I think this is my most significant experience. That is to say, only very few times did I feel proud at having some important person from Greece as a visitor abroad. Though on one occasion I did feel that Greece had influence, status and presence. It was the official visit of President Tsatsos to France in 1976, when he addressed the French Academy. This was one Greek who indeed shone at a gathering of the highest level.
Another occasion, for which I had been responsible, was when we organised Greek Months in Chile and Mikis Theodorakis came. He presented the Canto General and his appearance was memorable also as a personality. When he spoke about art in particular, he impressed me deeply.
User Comments
Login or register to join the conversation