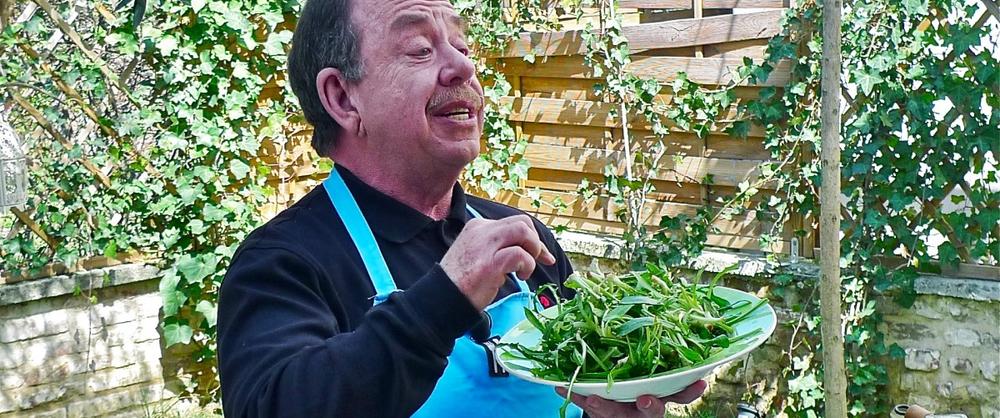 He currently has a radio show on Sto Kokkino ("On Red"), even though he jokingly describes himself as blue-blooded!
- Let's begin with your new venture. What exactly is it?
It won't be a restaurant but a kitchen offering takeaway food and a delivery service. It is an idea in response to demand for hot, home-style Greek food, perhaps slightly more creative than everyday fare.
- How do you see home-style food in this day and age?
The food prepared for decades in Greek homes continues to attract great interest all over the world. And it's not always easy to find, delivered to your home, with quality ingredients, lightly cooked and flavourful. So I intend to meet this modern-day demand for home cooked food.
- I imagine you will also have smaller portions to facilitate the concept.
What you are saying is very important. All too often we see 200 portions of moussaka cooked in enormous baking dishes with 15-20 kilos of mincemeat, prepared in a manner that is more boiled than oven baked. We won't be doing this. We shall cook one tray of moussaka; if we do prepare a second tray, it will be cooked from the beginning. So we won't be dumping 10 kilos of mincemeat into a pan, just one.
The menu will change each day of the week, though there will be certain permanent items such as Russian salad, tzatziki, beetroot salad with walnuts, tuna salad and meatballs. These will all be sold by the kilo. There will always be pies and tarts and the food will cover all preferences: olive oil-based vegetable stews, pasta, chicken, suckling pig, minced meat, that is, beef burgers whichpeople love. I will also have a fish dish and veal with Mexican rice.
- What's your opinion of the so-called superfood trend?
I don't believe there are such things as superfoods; every food item has its own nutritional value. My mother, who is 93, advocates "a little, of everything" and this had been applied for centuries. Suddenly, we discovered "superfoods", as if we have a different brain to that of our ancestors. If we eat in a balanced way during the week, we will have everything. I am convinced about this! For example, spirulina is the greatest fraud of the century. They say it contains protein. But how much protein can there be in a tiny pill? Meat is 8% protein, of which 7% is absorbable. Soybean meal is 44% protein, of which we absorb 2%. We must learn to see things in their true perspective and not believe everything we are told.
- Are Greeks adequately informed about nutrition?
The average Greek who does the family shopping is woefully uninformed. Many women and young girls who start a family are better informed than older generation housewives, but we still have a long way to go.
- And how will we learn?
I believe that we have not been eating badly in Greece in recent years. Pollution levels in the country are comparatively low and we have the highest consumption of vegetables and fruit in Europe. Generally speaking, we have been eating well, and I don't necessarily mean tasty food, but healthier food than other peoples. So we didn't really feel the need to probe the matter further. However, in recent years marketing campaigns have resulted in the food market being swamped with various peculiar items... attractively coloured, shiny and aromatic. It was then we started feeling that need, but it was not enough to awaken everyone's curiosity. Only very few people carefully read the labels. A case in point is additives, the so-called E-numbers, some of which correspond to natural substances that are fine in our diet, but others are artificial and cause various problems. There should be a book you can consult on the subject, but there isn't one.
- Have you considered writing such a book?
I don't think it would be a success, because people aren't really interested. They prefer to buy a book of recipes. Recipes and more recipes. They are fixated!
- Is there anything to the rumours that you will be working with Lefteris Lazarou in a TV show?
Some announcements have been made but they are not entirely accurate; it's still on the drawing board. There is nothing in writing and if the idea does eventually go ahead, it won't be immediately. Perhaps next year. Television is a strange beast. It relies on sponsorships. And sponsors have certain demands, as do the stations themselves, leaving you in the middle.
Ideally, with regard to television, I would like to present a series on the life of Rigas Feraios, or the food of ancient Greece, but this is never going to happen. I may do a cooking or game show, but the types of series I would like to present do not fit the sponsorship model; they are expensive productions that demand a team of people, research... and I don't think present-day television is willing to get involved with this.
- Are you saying you would prefer to have been a historian?
I would like to have become an agriculturist with a focus on animal production... cattle, pigs, milk and particularly cheese.
- What is the situation regarding Greek cheese, which is where you started?
Things are going very well. Feta has gradually secured its place abroad, while concentrated yogurts, first launched by FAGE, are being consumed around the world. Nowadays you can find Greek dairy products even in Japan. Another notable development has been the serious efforts being made by good, large-scale cheese dairies in the provinces, demand for whose products is growing abroad.
- To what do you owe your popularity?
(Laughing) I don't know. I never wanted to be a smart aleck or tell people what they should do, and I have never shaken my finger. Nor have I ever tried to ingratiate myself or present myself as an expert. I have always treated my audience, whether readers, viewers or listeners, with the utmost respect. I look them straight in the eye, try to understand what they want and endeavour to give it to them. As simple as that. Besides, I don't believe people want a poseur, but someone they can relate to.
- What made you decide to work with the radio station Sto Kokkino, which is associated with a particular political party?
When they hired Costas Arvanitis about a year ago, he set the station on a new course. Costas is trying to make the station a viable venture not through the prism of one specific party but by widening its appeal to a broader social spectrum. Kraounakis, Vaxevanis and I are contributing to this effort, and I should note that I am not a political supporter of SYRIZA. I present a show during which I discuss various issues relating to everyday life, good and bad. I have spoken quite harshly, even about SYRIZA supporters, who have in turn verbally abused me, but I haven't been fired. I think this is important, because it means Sto Kokkino is acquiring a pluralism that people find appealing. When I began my show by asking "what business does a blue blood have on a red station?" I expected them to kick me out, literally. Today I praised some government accomplishments, which are of course quite piecemeal, and again I didn't get the boot, despite the aggressive policy they have against the government. Free speech is indeed of the utmost importance.
- Particularly now, with the crisis emptying our wallets, how can value for money be achieved?
It is clear that cheap is the enemy of good. Let's look at it mathematically. We need about 2,000 calories a day. But we usually consume more in the wrong way. Instead of eating 400 grams of white cheese from the Netherlands, we could consume only 150 grams of Greek feta. We would obtain the necessary calories in the right way. We don't need to over-consume, which is what many of us do when it comes to food. Even in ordinary restaurants, the portions are huge and the plates return to the kitchen half-full. I believe in real quality. I don't believe in organic foods at all. It is an enormous scam on a global scale, not just in Greece.
- In a word, what is true quality?
Traditional cultivation and value for money. I never eat anything out of season. I don't eat oranges in August – apart from the summer varieties from Crete – nor water melons at Christmas, nor mangos. Although I am a glutton and really like many things from abroad, I have ruled them out. I adore Roquefort, but I haven't had a bite for three or four years. If you go to the biscuit section in any supermarket, you will find only one or two Greek brands, Papadopoulos and Alatini. All the rest are imported.
- Isn't this a reflection of the country's limited production?
Yes, unfortunately...
- Do you believe we will exit the crisis?
We will exit the crisis, but in the way that suits those who created it, namely an impoverished people who – on account of the country's geographical position – will be tasked with entertaining the northern Europeans, with inexpensive hotels and inexpensive tourism. We will be good waiters, with no industrial production. Our only hope is to wake up, each one of us; we cannot expect anything from the government or foreign capital. Half the land in Greece is not cultivated. Although efforts have been made. In Kozani they got together and are now cultivating 900 hectares of lentils, producing 1,500 tons. At Domokos they are producing apples which have been sold in advance to major supermarkets for the next five years. Our grandparents left their villages to become janitors in Athens, as if it were a high-status occupation. Young people must organise themselves into small, cooperative groups, return to the land and produce! They shouldn't wait for the state to act. There are dozens of second-hand tractors that are not being used which they can buy for next to nothing. They must make a sacrifice and send their kids to school in the nearest small town, gradually adapting as best they can. And things will be better. Of course this return to production will not always be easy. Moving from a city to a small town or village, where you must adjust to a new way of life with a different social order, is a challenge, but one that can be met. 
- What makes for a successful person?
Someone who rids themselves of the complexes imposed by marketing and everything else that social life dictates as values, which are in fact just nonsense. If we can understand what it is we really want – outside the box of designer clothes, expensive watches and luxury cars – and embrace the substance of production, things will be a lot better. Simply put, we must make peace with ourselves.
- Have you made peace with yourself?
No, it's very difficult. Look, it's my birthday today, I am 64, it's too late for me to change, otherwise I would have to bury myself in a monastery. 
- I can't see you locking yourself away in a monastery... there are too many things that need changing...
User Comments
Login or register to join the conversation