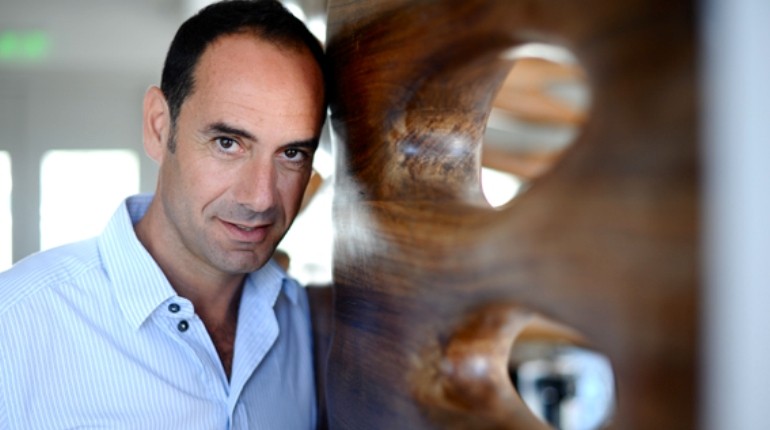 The bridge is called Qrator, a Greek software application that allows users to collect music, photos and text from the places they visit and share their experiences with others. At the same time, it allows tourism professionals as well as destinations to be showcased in a completely new environment. Most definitely a start-up for countless check-ins!
- You are a seasoned entrepreneur in the tourism industry. What made you decide to become involved in digital technology too?
I have always been interested in technology, even though I changed course in my professional life. You see I used to be a robotics engineer. And digital technology is the means, the tool with which we can now do things to express ourselves, not only in our everyday life but also professionally. On completing my studies in robotics, I had the opportunity to work in the hospitality and lifestyle sector. I have also been creative director in projects on which I have worked with architects and designers. So, I gained experience in engineering, lifestyle and design, fields that form the basis of the Qrator concept, namely lifestyle engineering.
- How is Qrator connected with your current activities?
Qrator is an application that aims to highlight its users' way of life, through photos and music which users collect in the places they visit. At the same time, it enables businesses to promote their content and aspires to become a lever for growth, especially for those active in tourism, catering, leisure. Another feature is the ability for travel destinations to be projected via the application's specialised services.
- What is innovative about this particular app?
Qrator combines many characteristics and the team is constantly working to make the application even better. Its innovation lies in the fact that it lets people use more than one application at a time. In other words, you can combine photos, music, location and text in a single post. You can also organise – not simply share – your content in a very easy way. And most importantly, it invites you to tell a short story in each post, not just give a status update.
- How do you intend to further develop it and at what point will you consider it a success?
The application is already at an advanced stage, though more time is needed for it to reach the level that I and my team envisage. In the meantime, we have begun testing the application in Greece. We are receiving feedback and making improvements. So it's still too early to speak about "success". We would like to see it gradually appearing on the list of favourite apps among those who use it, but also serving as a platform for the promotion of many businesses in the hospitality sector.
- The focus of the application is clearly experience. How much of a role does this play in networking and the tourism product more generally?
When we talk about services such as those in the hospitality industry, I believe that experience is the most important element. Nowadays, people don't simply want to "consume" a service; they increasingly seek an experience from that service. Social networking enables users to share these experiences and thus influence their network. We live in an age when, before booking somewhere to stay, before deciding where to sit in a restaurant or before completing a purchase, you go online to see the reviews of others who are sharing their experience of the same product or service. I believe that businesses in the tourism sector and the hospitality industry in general must seize the opportunity to find their place in this new environment.
- What was your inspiration for this application and what prompted you to put the idea into practice?
The idea for Qrator was conceived over three years ago. Originally, the project had a different look but many things changed during the course of implementation. Nevertheless, the main focus has always been people's experiences in the places they visit. As I mentioned previously, creating experiences has always been an important part of my work and my daily life. I wanted to see this being developed also in a digital dimension.
- How easy is it for an entrepreneur to launch a start-up of this type in crisis-hit Greece?
It has become something of a cliché to say that the crisis is also an opportunity, but it's true that people today are searching for new ideas, experimenting, working in a different way at a different pace and seeking solutions. Qrator has already taken its first steps in Greece, but it's not designed solely for Greece. Our aim is for the application to gradually generate demand abroad also. If we're speaking in terms of promoting an application in new markets or securing funding, things are not at all easy for a Greek start-up. Access to tech influencers and investors is much more direct if you are, for example, in New York. Also, investor confidence in Greek entrepreneurs has been shaken, so you must make an even greater effort.
- Generally speaking, how do you see the growth and development of the Internet and portability in Greece, especially now, when according to recent surveys, penetration among younger age groups is increasing?
In 2012, approximately 1.3 million smart phones were sold in Greece. At the same time, Greek users are very active in social networks. As technology advances and devices become better and more affordable, that penetration will increase further. Among younger age groups the penetration rates are comparable to the European average and that is very positive.
- Please describe in a few words Qrator's target audience.
The application has the characteristics of a mobile social network and is ideal for anyone wishing to "tell" a story with images and music and share it with friends. It is addressed to people with diverse interests, such as fashion, music, art, food, travel, design, sport... At the moment the application is available only to iPhone users but an Android version is currently being developed.
- How do you see Greece in the current crisis? Do we lack vision or money?
We certainly lack money; there's no doubt about that. But I think we also lack the culture and experience to create products that have a future on the global market. Our economy is very inward-looking.
- And lastly, what does success mean to you?
Being able to do things that express me and offer quality experiences to others. But let's not forget that success, no matter how great or small, is fleeting in nature. In my opinion, successful people are those who never become complacent and are constantly doing new things.       
User Comments
Login or register to join the conversation