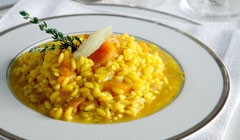 And while pasta is not my first choice – since I belong to that category of peculiar folk who may never crave a macaroni dish – risotto is one of my favourite culinary treats, especially when it's properly cooked.  
Having experimented quite extensively in the kitchen, and having overseen plenty of real disasters, I have concluded that when it comes to recipes and especially for the preparation of a good risotto, there are no exact cooking times or precise quantities with regard to the broth. You have to be right on top of things, continuously stirring and adding liquid a little at a time until the rice achieves the right texture. Also, because it continues to cook on account of the heat in the pan, it's best to serve it there and then, otherwise your al dente texture is like to wind up al soggy mush... And another thing regarding this particular recipe: it is the bottarga that enlivens the flavour, so pick a good quality one. I use only Trikalinos. In slabs, not grated.
Risotto with saffron, lemon and bottarga
Ingredients (for 6 servings)
100 ml olive oil

2 medium onions, finely chopped

125 ml dry white wine

500 gr arbrorio or carnaroli rice

1½ lt vegetable stock, very hot

6-8  saffron threads

1 lemon (zest and pith, after removing as much white membrane as possible, and no pips, finely chopped)

150 gr Parmesan cheese, grated

200 gr bottarga, beeswax removed and cut into very thin slices

Salt and pepper
Preparation
Heat the olive oil on medium heat in a wide, shallow saucepan and sauté the onions for about 5 minutes until they are soft and translucent. Pour in the wine and simmer until the alcohol has evaporated. Add the rice to the pan and sauté for 5 minutes, stirring continuously with a wooden spoon. Then add the stock a little at a time, stirring frequently and waiting until it has been almost completely absorbed before adding more. After using about half the stock, add the saffron and lemon zest and cook until the risotto acquires a creamy consistency and has absorbed nearly all the liquids. The entire procedure should take about 20 minutes, but as we said, the secret is to remain vigilant, stir constantly and taste every so often. When it's ready, remove the pan from the heat, add the lemon pith and half the bottarga, stir well, taste and season with the salt and pepper accordingly. Serve immediately in deep dishes, garnished with the remaining bottarga.