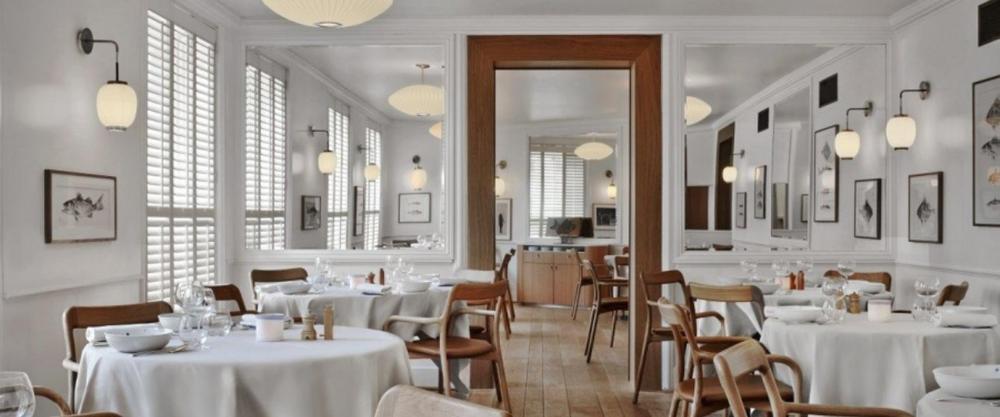 Rech has been in the 17th arrondissement, close to the Palais des Congres, since 1925. It was bought out by the Ducasse group in 2007, making it one of the most interesting seafood restaurants around.
In the 1920s many Alcasiens came to Paris and opened fish restaurants as their wines were then considered the only suitable accompaniment.  Thankfully times have changed and the wine list includes wines from all over the world with a focus on biodynamic labels.  Although the décor pays homage to the restaurant's history, it's a wonderful modern establishment which respects classic dishes and constantly showcases new ideas.  Damien Leroux, after his successful run at London's Rivea, was transferred to Paris.  The heart and soul of the restaurant is Eric Mercier who shows you how much he likes you if you get seated on the top floor. Gilles Jego, who exclusively supplies Rech with fish, plays an important part too and so does Malek Djaballi who prepares the oysters at the main bar.
The menu is constantly renewed as it depends on what fish is caught on the Bretagne coast, but you can always find the sole meurniere which, despite being a little expensive at 140 euros per kilo, is a lesson in how to prepare and present this fish. I love red mullet and last time I tried them in two different ways. A red mullet carpaccio with sea urchin, which is an astounding dish with a strong taste of the sea, and a fried version with caramelised leeks and fennel; a simple but very tasty combination.  The royal seafood platter is a special experience although you do need a Eurogroup approved budget in order to be able to afford it.  The desserts are also very good, especially the caramelised brioche with salted caramel ice cream, but nothing quite matches the giant éclair (vanilla or chocolate flavour), a Rech staple. Do not miss it! 
Service is good even though the sommelier is a little aloof and quite slow.  Rech, along with Pierre Gagnaire's Gaya, are the best seafood restaurants in Paris.  Chilled out, creative and above all, mouth watering.
Rating: 7.5 / 10