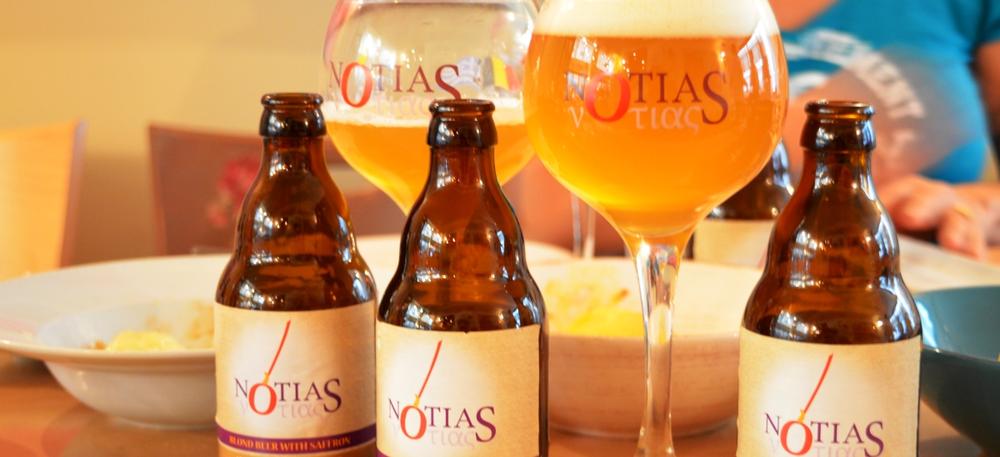 Notias is a cloudy blonde ale with wonderful saffron undertones in its flavour and aroma.

It has a strong body with a refreshing malt taste, slightly spicy with a delicate sour note. Belgian craftsmanship perfectly balances malt, hops and saffron. The beer ferments in the bottle, it is unfiltered and unpasteurised with an alcohol content of 4.8%.  The life of this beer, short though it may be, is a testament to an old love affair between Belgium and Greece.  It all began with a group of Belgians who spent their summers in Tyros, Arkadia.  Watching their local friends struggle with the effects of the economic crisis, they decided to help the region by promoting the cultivation of saffron. They created the non-profit ASBL Notios organisation in Belgium with the specific goal of collecting funds to put their ideas into action.  The first positive reaction came from the monastic community of Scourmont in Chimay, in the south of Belgium, the home of the famous Chimay Trappist beer.  The monastery dates back to the 1850s and the first beer created there, in 1862, was the red Chimay.  Like in all Trappist monasteries, Scourmont funds itself and all its philanthropic endeavours through its beer production. It is precisely as part of this outreach work (Solidarité Cistercienne) that the Notias programme was supported. The first saffron bulbs were bought and planted in Arkadia and the rest is history.  The Chimay monastic community, with its years of experience in the field, went a step further and provided bottling facilities for Notias in its Belgian headquarters.
Notias accompanies all kinds of saffron infused dishes beautifully, as well as salads, bean purées, pizza, shrimps, roast chicken and pork.  Whilst Kozani has paved the way in saffron production, Arkadia is bravely following in her footsteps with this unique product.