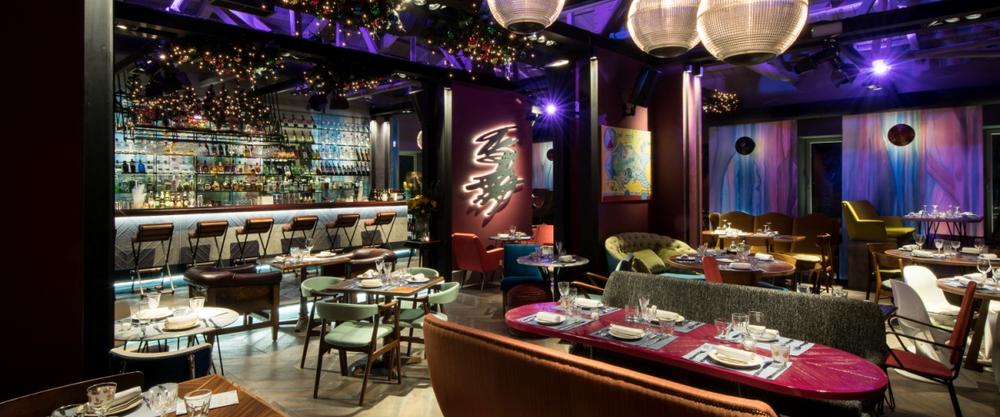 The Shamone team (Gazi) decided to move North and firmly establish itself in the city's bar world. The cocktail menu and the training of the bar staff is down to the Gin Joint's Dimitris Kiakos and Christina Moatsou; this in itself is very intriguing as this successful duo don't usually take on these kinds of projects, especially in a mainstream bar.
Artisanal is a very beautiful, bright, warm and rather big space.  I spent my evening in the 'cage', an unusual atrium which is separated from the main building by the back yard. It is brilliantly decorated by a mish-mash of furniture which I was later told came from old Kifissia mansions. This eccentric theme is continued with their choice of beautiful and sometimes rare pieces of glassware and crockery, which again are the product of a long search through old Kifissia homes.  I visited on a Monday evening and even though it wasn't that busy the atmosphere was very warm.  Spilios Christofallos and Tasos Soundias were behind the bar and talked me through the menu.  Mr Kiakos's suggestions unusually begin with the classics which I thought was a breath of fresh air; most Athenian bars consider this category a given and for some unknown reason, don't give these drinks the necessary attention.  The Sidecar, Negroni, Boulevardier and even the Mary Pickford and Tom Collins take centre stage and a customer is even given information such as the time and place these drinks were first served.
Moving on to the main part of the menu, we come across 10 interesting recipes which may remind you of something you can't quite put your finger on, although in my case that's slightly different as Dimitris Kiakos's drinks are some of my favourites in the city. 
The Flora Odorata for example is an aromatic mix of Bloom gin, fresh lemon juice, Maraschino liqueur and homemade Tonka and rose water syrup, which is reminiscent of my beloved Aviation.  So beautifully sour that it could easily sit as part of the Gin Joint menu as well.
I found the Muy Picante less impressive as the 2 dashes of Firewater Bitters and the fresh coriander made for such a strong spicy mix that the tequila was more subdued than I would expect.  I would recommend it however to those who love spicy drinks more than agave! The Buena Vivra didn't pique my attention to begin with but it ended being the best choice of the evening.  A tasty cocktail made with tequila (Reposado) mixed with cardamom, chilli pepper, sweet rose, lime juice and orange liqueur, while the edge of the glass is covered in a chocolate glaze.  Despite what you might think, the end result isn't overly sweet.  It is very original though and definitely a drink you'll want to try again. 
For the rum lovers amongst you, I would recommend the Nutcracker; a cocktail made with two of my favourites, Havana Club Seleccion de Maestros and buttermilk smoked honey cordial, lime juice, hazelnut liqueur and chocolate bitters.
All in all, the Artisanal bar was a really interesting place to drink and above all a beautifully welcoming one.  It has entered the market with a bang and it looks like it's here to stay, especially if it sticks to the impeccably executed and already great cocktail recipes on its menu.
Zirini 2, Kifissia