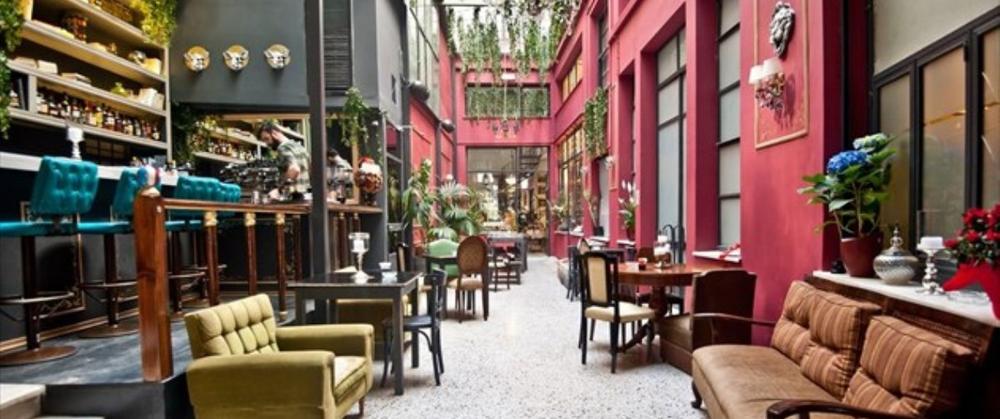 I still feel the same about Christmas that I did when I was a toddler; it will always be my favourite time of year. If that wasn't enough, Noel arrived. A new all day project in the city centre, which introduced itself as a 'holiday bar' and made me look forward to going even more.
Noel's décor might not look Christmassy (that would have been weird, right?) but it does have a certain theatricality about it, making you feel like you're on stage.  It's a big space with many nooks, painted a deep red with a little bar in the entrance and on the side, a beautiful arcade with a separate bar.  The arcade makes for an excellent daytime meeting point as it's always cool and full of natural light.  The Noel troop is made up of 16 bartenders (!), who perform every day in rotating roles: sometimes behind the bar and sometimes as serving staff because of Noel's ethos of providing a uniform service standard.  Heading the team is Yannis Korovesis in the role of bar manager with Alexandros Septchenko, Alper Deli, Argyris Veniamin and Stamatis Stamatiadis surrounding him among others.
The bar's overall concept reinforced my initial impression that this is primarily an afternoon hangout.  There are over 25 Greek and Italian wine labels and the majority of the cocktails are low alcohol and more like aperitivo.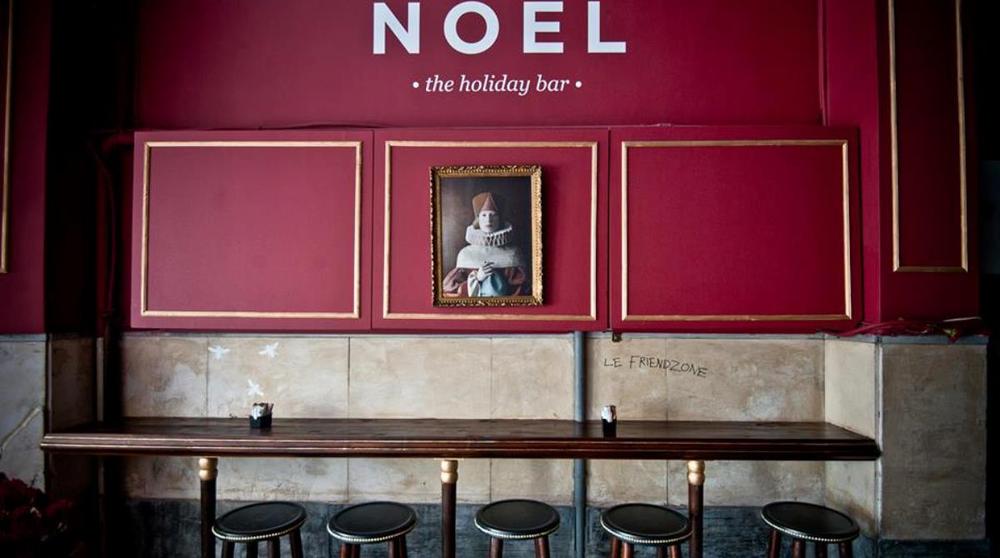 The Shangri-La in a flute glass for example, which is obviously popular, is made with Cocchi Amaro vermouth, Nikka Pure Malt White with a kick provided by the homemade chilli syrup which the pineapple puree balances out. The pineapple is the only exotic ingredient on the menu as everything else is exclusively Mediterranean and seasonal, used in a variety of interesting recipes.  The Med Gimlet for example could easily be an aperitif as it's made with a gin blend, a tomato and basil shrub and a little lime juice, while the Kunta Kinte is an alternative exotic option which includes a rum blend, a very interesting Sigalas spirit made from prickly pears, lime juice, mandarin puree and chervil syrup.
Herbs and edible flowers take pride of place on the menu.  Ingredients like rosemary, fresh salty ice plants, basil and coriander lend a botanical character to sherry or vermouth, especially in the case of the low or no alcohol options.
Overall I thought Noel was a great place to go for an after work drink.  If you add to that the jazz soundtrack and the food menu, it's a top spot to people watch.  If Last Christmas does come on the speakers while you're sipping your drink, smile and enjoy it.  After all, how many times a year do we get to celebrate Christmas?
Kolokotroni 9B, Kourtaki Arcade
User Comments
Login or register to join the conversation