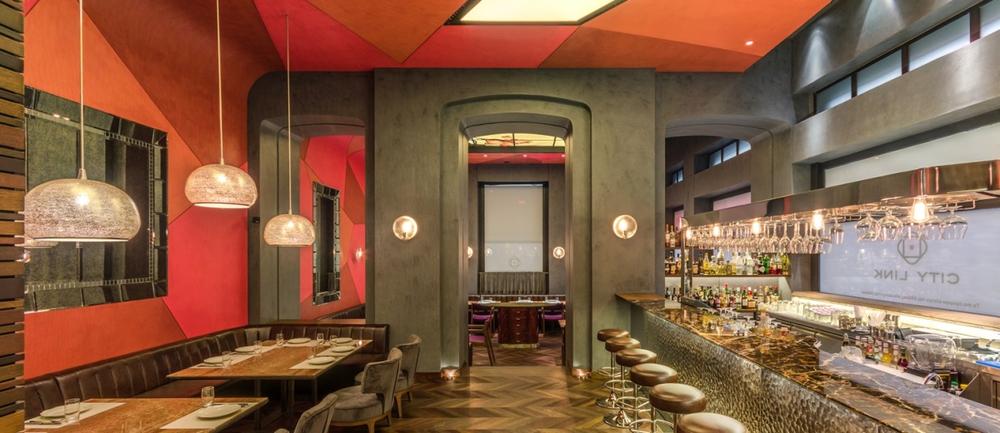 Managed by Tassos Ioannides (Matsuhisa, Belvedere), City Bistro is currently one of the most attractive restaurants in Athens, located in one of my favourite places – inside the Spyromiliou Arcade – where you actually feel like you're in a European metropolis. And City Bistro is precisely that: a super chic, city centre, all-day café-bar restaurant with art deco elements, wonderful warm colours and a cosmopolitan atmosphere.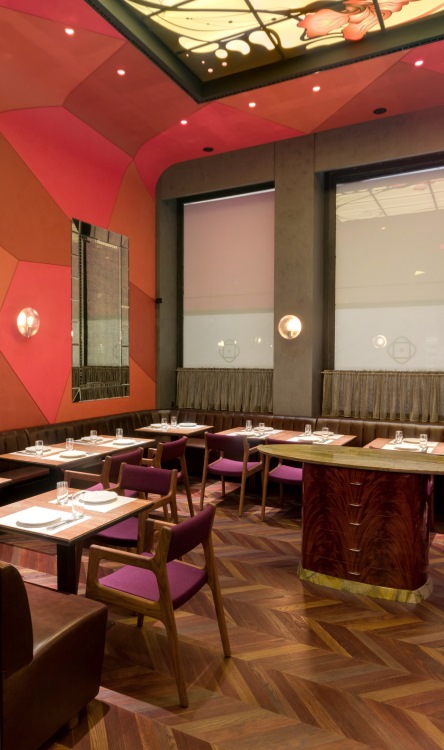 Entering the arcade from Voukourestiou St., I first see the open kitchen and then the outer lounge on the slightly raised deck. I was immediately struck by the warm, elegant and inviting luxury. The bar with cast metal inlays faces both in and out, while the main dining area with leather couches and comfortable armchairs is visible in the background. The floor manager is none other than the outstanding Michalis Ladas (internal transfer from Matsuhisa) who has put together a stylish and efficient team. The kitchen is run by the very capable Nikos Zervos, assisted by Georgios Ftaklas and pastry chef Theodoros Moisidis (transfer from Hytra), the varied, interesting (and a little pricey) wine list has been crafted by Nikolas Giannopoulos, and finally the excellent cocktails are the work of Alex Gikopoulos and Spyros Kerkyras. Add to all this the very strong bakery section (having tasted the breads, I can't wait to try the croissants, brioches and quiches) and you will no doubt agree that we are talking about a real dream team!
But this is where the moaning starts. The menu, portion sizes, dish presentation, even the delectable mignardises at the end have little to do with bistro fare and the comfort dimension it should have… at least in my view. In fact they remind me more of a good restaurant serving Mediterranean cuisine, perhaps in some… spa! The dishes on the menu appear to have been assembled with the aim to please gourmet models, prompting one girl in our group to suggest the alternative name of Skinny Bistro!
I appreciate that it's still early days and the menu should be brief, with items gradually added. What I don't understand is why two of the five appetizers are fish carpaccio. Only one meat dish (!) but two pescaterian? And similar things. Maybe I expect something different from a bistro menu, but I do consider the comfort dimension, the "warmth" of the food to be a sine qua non. However, I must confess that my objections end here, for the truth is that whatever I tried was really very good. The tuna carpaccio with roe was light and delicious; the sea bass carpaccio paired perfectly with sea urchin, the vitello tonnato was tender and quite delectable. The first dishes were accompanied by "spinach" salad, a deconstructed spinach pie in a salad version, the spinach leaves marinated in honey, pieces of pastry baked in staka and a dill vinaigrette… a truly clever and very tasty dish! Among the main dishes I singled out the chicken sheftalia (three small bomblets) with delightful oven baked potatoes (four or five) and the mousse yogurt with lemon and oregano. The risotto with asparagus, white truffle oil and a little culatello on top was properly cooked with a wonderfully light creamy texture, while the white grouper with crushed potatoes and lemon-coconut cream was also flavourful, though a little dry.
The desserts were all exceptional, elegant, beautifully presented, but again, out of place in a bistro. As I noted at the beginning, there is no doubt that the work which has gone into the establishment is highly professional. I believe that if they take their name (Bistro) a little more literally, if the food takes on a more comfort-yummy dimension and if they reduce the wine prices slightly, then City Bistro will become a point of reference for Athens!
City Bistro
Phone: (+30210) 3211315
Address: Stoa (arcade) Spiromiliou, City Link, Athens,
Website: -
Open: Daily, noon and evening. Closed Sunday night.

Price per person (€)*: 45-75, lunch menu €27 plus €5 for a glass of wine
* we do our best to reflect the actual price range per-person of a full meal including first and main courses, desert, water and half a bottle of wine or one beer depending on the type of restaurant.
Scoreboard Key
0 - 3

Poor

3.5 - 4

Average

4.5

Acceptable

5 - 5.5

Satisfactory

6 - 6.5

Good

7 - 8

Very Good

8.5 - 9

Outstanding

9.5 - 10

Excellent
| | | | | | | | |
| --- | --- | --- | --- | --- | --- | --- | --- |
| 0 - 3 | 3.5 - 4 | 4.5 | 5 - 5.5 | 6 - 6.5 | 7 - 8 | 8.5 - 9 | 9.5 - 10 |
| Poor | Average | Acceptable | Satisfactory | Good | Very Good | Outstanding | Excellent |
User Comments
Login or register to join the conversation